Why Should I Join the Chamber?
The Mission Regional Chamber of Commerce specializes in connecting and growing your business. This is a great time to take advantage of our monthly networking events, educational workshops, and advertising opportunities. As a member of the Mission chamber, we can help you market and promote your product and services and significantly improve your business's visibility and credibility. We also support grand opening events for all new businesses by facilitating the ribbon-cutting ceremony.
Membership in the Mission Regional Chamber of Commerce opens doors to great new business advantages! Our Chamber offers many networking occasions and services combined with substantial membership discounts and privileges. Everything from special merchant rates for credit card transactions to savings on gasoline, long-distance, insurance, automated payroll and so much more! By making use of everything our Chamber offers, members can gain valuable information, strengthen business skills, gain contacts and expand their markets, all vital components to achieving success in today's business world. Chamber membership provides a unique combination of opportunities for today's business community.
We want the business to thrive in Mission. Through Advocacy,
B

enefits

, and Connections, we work to grow business in the region. Build your business with us.
Out of sight, out of mind!  Remaining in the public eye is essential for success.  Smart businesses leverage their resources through the Chamber, giving them extra visibility by aligning themselves with the Chamber Network.   Members are featured on the Chamber website and membership directory.
Members access many opportunities to meet new contacts, receive qualified referrals, and form partnerships that will help grow their business.  The Mission Chamber provides niche programming for businesses to make these connections.
Local businesses and Not-For-Profit organizations are the backbones of any community.  Stay connected by participating in the Chamber community-focused programs.
To represent the business community's views and to keep the membership informed on municipal, provincial, and federal issues and legislation,  the Mission Chamber is a part of the BC and Canadian Chamber of Commerce.  This provides in-depth information and platforms to escalate policy reviews on a variety of legislative issues that affect the business community.  The alliance represents over 200,000 businesses across Canada.
"The Mission Regional Chamber of Commerce has given our business so much support since we joined as members. They helped us to market our store's grand opening and facilitated the ribbon-cutting! A million thank you's to their entire team! Of course, I wouldn't expect anything less of this awesome organization."
- Irene, Owner of Rex Cox Men's Wear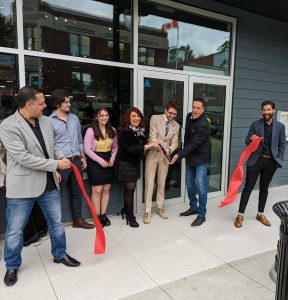 "It's nice to have a fresh set of eyes to look at my business and provide insight into concepts and new revenue streams. As a new member of the Mission Regional Chamber of Commerce, I am thankful that they shared ideas that I hadn't thought of to help my small business."
- Lexi, Owner of Twiggage & Bloom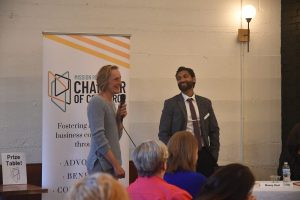 Join the people who get things done. We are the hub for business communication and collaboration. Your membership connects you to local businesses, events, seminars, and member-exclusive deals. We invite you to enjoy all that we have to offer, for a fee that you can afford! Check out membership rates
Category
Fee (+GST)
Community Non-Profit Organization
$90.48

($7.54/Month)

Owner/Operator - No Employees
$119.05

($9.93/Month)

1-5 Employees
$157.14

($13.10/Month)

6-20 Employees
$238.09

($19.84/Month)

21-40 Employees
$304.76

($25.40/Month)

41+ Employees
$500.00

($41.66/Month)

Community Member/Student
$61.90

($5.16/Month)
* Total of annual membership dues divided by twelve months.  Membership for the price of coffee or lunch!
*Please note there is a one-time $25 administration fee for all memberships.