During the week of June 19-23rd 2023, business and community leaders visited approx. 320 local businesses and organizations throughout our city in the Mission Chamber's 7th Annual Business Walk. The event proved to be a resounding success, gathering more responses than ever before and leaving organizers brimming with insights, connections, and a sense of excitement for the future.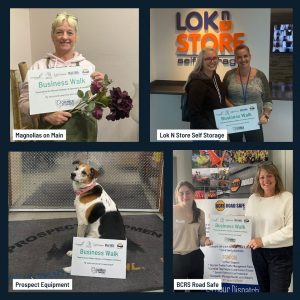 The Business Walk demonstrates the power of in-person interactions in an increasingly digital age by facilitating face-to-face conversations. These interactions give us a snapshot of the challenges and successes businesses have had through the year and their hopes and dreams for the future. The Business Walk is a Chamber-led initiative that was designed to complement economic development efforts in Mission.
2023's Business Walk saw the Chamber and local stakeholders conduct a survey created in partnership with the City of Mission. It was designed to identify and capture key areas of growth and need within our business community. The report contained within is the compilation of data from individual businesses, and what emerges is the collective voice of the business community. This annual report informs local stakeholders on business challenges, the need for strategic resource allocation, in addition to economic achievements.
The program is powered by the Mission Regional Chamber of Commerce in partnership with the City of Mission, the Mission Record, WorkBC, the Mission Downtown Business Association, Community Futures North Fraser, What's On Mission Magazine, and other local stakeholders and volunteers.
NOTE: All information collected is kept strictly confidential, the report produced and shared does not contain names of individuals, businesses, or organizations.